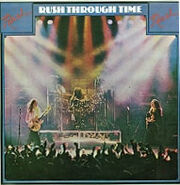 Rush Through Time was a German Collectors cd that was released without the bands supervision. It includes songs from Fly By Night, Caress Of Steel, 2112, and A Farewell To Kings. The cover art was used for The Words And The Pictures.
"Released by the German company entirely without our knowledge or consent (not that they need it), and certainly contains nothing of any interest - not even the cover, and certainly not that title. We wouldn't do that. Have you noticed that everyone puns with our name except us?" - Neil Peart, "Backstage Club newsletter", 1988
Track Listing
Edit
Music by Lee/ Lifeson/ Peart. Lyrics by Peart except were noted.
No. Title Length
Fly By Night (Lee and Peart) 3:21
Making Memories 2:58
Bastille Day 4:37
Something For Nothing 3:59
Cinderella Man (Lee) 4:21
Anthem 4:22
Overture/ The Temples Of Syrinx 6:45
The Twilight Zone 3:17
Best I Can (Lee) 3:25
Closer To The Heart (Peart and Talbot) 2:53
In The End (Lee and Lifeson) 6:47
Personnel
Edit
Geddy Lee- Bass Guitar, Bass Pedals, Mini Moog, Vocals
Alex Lifeson- 6 and 12- string Electric and Acoustic Guitars
Neil Peart- Drums, Percussion
Ad blocker interference detected!
Wikia is a free-to-use site that makes money from advertising. We have a modified experience for viewers using ad blockers

Wikia is not accessible if you've made further modifications. Remove the custom ad blocker rule(s) and the page will load as expected.