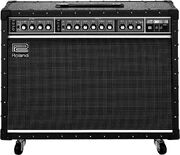 Controls

Channel 1 - Volume, Treble, Middle, Bass, Bright switch
Channel 2 - Volume, Treble, Middle, Bass, Distortion, Reverb, Bright switch
Speed, Depth, Vib/Chorus

Features

Two separate 60 watt RMS power amps (to allow for true stereo chorus)
Normal and effect channels, three-band equalizer per channel, one high and one low input per channel
Reverb, distortion, adjustable vibrato and true stereo chorus with footswitch jacks
Stereo effects loop
Line out left/mono, right
Channel 2 effect loop send with Level switch for 4 and -20 dBm; Series/Parallel Loop switch, Return (left/mono, right)
Four caster wheels

Output
120 (60 + 60) watts
Valves
Solid state
Speakers
Two silver-cone speakers, 30 cm
Dimensions
29 15/16" x 11 1/16" x 24 1/2"
Weight
61 lbs, 11 oz
Usage
Counterparts by Alex
Described as having sweet, creamy soft distortion.
Ad blocker interference detected!
Wikia is a free-to-use site that makes money from advertising. We have a modified experience for viewers using ad blockers

Wikia is not accessible if you've made further modifications. Remove the custom ad blocker rule(s) and the page will load as expected.