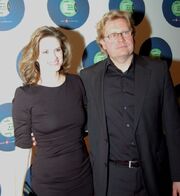 Ray Danniels is the long-time manager for Rush and C.E.O. / President of S.R.O. (Standing Room Only) Management Inc. and Anthem Entertainment Group. Danniels began his career booking local bands in Toronto. When he was 16, Danniels quit school to manage Rush. In 1970, he took on Rush as their full time agent and manager. In early 1973, Ray Danniels and Vic Wilson formed S.R.O. as a management company for Rush. At this time, Rush was unable to get a record deal, so Ray launched Moon Records (later renamed Anthem). In May 1977, Danniels and Wilson formed Anthem Records.
On March 8, 2007, Danniels was inducted into the Canadian Music Industry Hall of Fame. On March 2, 2009 the Music Managers Forum Canada (MMF Canada) announced that Danniels would be the recipient of the 3rd annual MMF Canada Honour Roll Award. The award is presented each year during Canadian Music Week and celebrates an individual's outstanding excellence and achievements within the music and artist management community.
Ad blocker interference detected!
Wikia is a free-to-use site that makes money from advertising. We have a modified experience for viewers using ad blockers

Wikia is not accessible if you've made further modifications. Remove the custom ad blocker rule(s) and the page will load as expected.