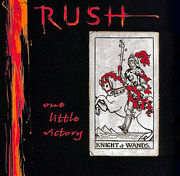 One Little Victory is the 1st song on
Vapor Trails
, which was their first album after a five year hiatus. The song was featured on the bands Retrospective 3 album. It was also performed live on the Vapor Trails tour, the 30th Anniversary tour, and on both legs of the Snakes & Arrows tour.
Track Listing
Edit
Music by Lee/ Lifeson. Lyrics by Peart.
No. Title Length
One Little Victory 5:07
Personnel
Edit
Geddy Lee- Bass Guitar, Vocals
Alex Lifeson- Electric and Acousic Guitars
Neil Peart- Drums, Cymbals
Ad blocker interference detected!
Wikia is a free-to-use site that makes money from advertising. We have a modified experience for viewers using ad blockers

Wikia is not accessible if you've made further modifications. Remove the custom ad blocker rule(s) and the page will load as expected.