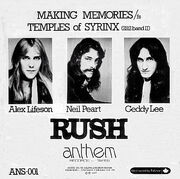 Making Memories
details the feelings the band had about touring. The band was very exhausted through the years leading up to this song's release, aggressively touring and traveling to promote their records. They spent far more time away from their homes, families and friends than they wanted to. The band wrote this song to themselves, to keep themselves in positive spirits throughout their long trips touring on the road, a tone clearly represented in the song itself.

They wrote it while they were on tour riding around in a rental car near St. Louis.
Ad blocker interference detected!
Wikia is a free-to-use site that makes money from advertising. We have a modified experience for viewers using ad blockers

Wikia is not accessible if you've made further modifications. Remove the custom ad blocker rule(s) and the page will load as expected.