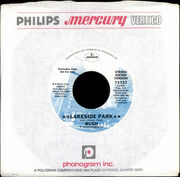 The song, "Lakeside Park" is the third song from Rush's third album, "Caress of Steel." It is about Lakeside Park, near Lake Ontario, Canada and near where Neil Peart grew up. (1) "The 24th of May" refrences Victoria Day.
Information
Edit
Album: Caress of Steel
Lyrics: Neil Peart
Length: 4:08
Geddy Lee: Vocalst/ bass
Alex Lifeson Guitar
Neil Peart: Drums
Geddy Lee reportedly doesn't care for this song and was quoted as saying:
"A lot of the early stuff I'm really proud of, Some of it sounds really goofy, but some of it stands up better than I gave it credit for. As weird as my voice sounds when I listen back, I certainly dig some of the arrangements. I can't go back beyond 2112 really, because that starts to get a bit hairy for me, and if I hear "Lakeside Park" on the radio I cringe. What a lousy song! Still, I don't regret anything that I've done!"
Despite Geddy's previous hatred of the song, they revived it to play a section on their R40 tour. This is the first time it's been played since the tour for A Farewell To kings.
Variations
Edit
"All the World's a Stage" (Live)
Difference: Live
Refrences
Edit