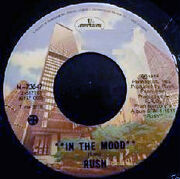 In the Mood
is a song by progressive rock band Rush from their debut album,
Rush
. It was at least two years old when recorded for the album. It is three minutes and 34 seconds long and in 4/4 time. It's one of the only Rush songs to prominently feature cowbell. Christopher Walken would be proud.
Curiously, the song was always performed in concert — often in a medley, and usually near the end of the final encore — until the 1992 Roll the Bones Tour, when it was dropped. In live performances, the line "Hey, baby, it's a quarter to eight" was often altered to include a woman's name in place of the word "baby."
The St. Louis Classic rock radio station KSHE used to play the song every Friday night at 7:45 ("a quarter to eight").
Information
Edit
Song: In the Mood
Album: Rush
Label: Moon Records/Mercury Records
Length: 3:33
Geddy Lee: Vocals/Bass
Alex Lifeson: Guitar
John Rutsey: Drums/Percussion
Alternate Versions
Edit
Difference: Part of a Medley with "Fly by Night"
Grace Under Pressure Tour
Difference: Part of a medley with "Finding My Way"
Difference: Live
It was played in every tour up until "Roll the Bones"
Starting in the early 80's Geddy Lee would put a girls name instead of "baby"
It is one of the few Rush songs to use a cowbell
It is the only Rush song to use a cowbell with John Rutsey as the drummer
References
Edit