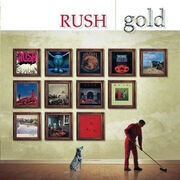 Gold
is a compilation album released April 25, 2006.
The compilation is a repackaging of the two 1997 Rush compilation albums Retrospective I and Retrospective II with the exception of the track "Something for Nothing" which is replaced by "Working Man".
Track listing
Edit
"The Trees"
"Freewill"
"Xanadu"
"Bastille Day"
"By-Tor and the Snow Dog"
"Anthem"
"2112: Overture"
"2112: The Temples of Syrinx"
"La Villa Strangiato"
"Fly By Night"
"The Big Money"
"Subdivisions"
"Time Stand Still"
"The Analog Kid"
"Distant Early Warning"
"Marathon"
"The Body Electric"
"Mission"
"Limelight"
"Tom Sawyer"
"Force Ten"
Personnel
Edit
Ad blocker interference detected!
Wikia is a free-to-use site that makes money from advertising. We have a modified experience for viewers using ad blockers

Wikia is not accessible if you've made further modifications. Remove the custom ad blocker rule(s) and the page will load as expected.