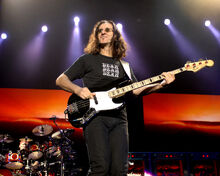 OC
Geddy "Dirk" Lee
, (Born Gary Lee Weinrib on July 29th, 1953) is the bassist, vocalist and keyboardist for the Canadian rock band Rush. He plays bass, keyboards, guitar, bass pedals as well as sing. Along with the other two members of RUSH, he was made an Officer of the Order of Canada, the highest civilian award available. He has been criticized for his high singing voice, one critic calling it "Mickey Mouse on helium". He got the name Geddy Lee from his mother's Yiddish accent. His classmates and friends heard the name, so it spread.
Ad blocker interference detected!
Wikia is a free-to-use site that makes money from advertising. We have a modified experience for viewers using ad blockers

Wikia is not accessible if you've made further modifications. Remove the custom ad blocker rule(s) and the page will load as expected.