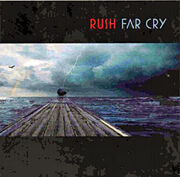 Far Cry is the first song and the first single off of Snakes & Arrows. It has been performed live on the 1st and 2nd leg of the Snakes & Arrows tour and on the Time Machine tour
It was released to radio stations on March 12, 2007 and was released on iTunes four days later. Far Cry peaked at number 22 on the Billboard Hot Mainstream Rock Tracks chart.
Track Listing
Edit
Music and lyrics by Lee/ Lifeson/ Peart
No. Title Length
Far Cry (Radio Edit) 4:34
Far Cry (Album version) 5:21
Personnel
Edit
Geddy Lee- Bass Guitar, Bass Pedals, Vocals
Alex Lifeson- Electric and Acoustic Guitars
Neil Peart- Drums, Cymbals
Ad blocker interference detected!
Wikia is a free-to-use site that makes money from advertising. We have a modified experience for viewers using ad blockers

Wikia is not accessible if you've made further modifications. Remove the custom ad blocker rule(s) and the page will load as expected.