Distant Early Warning
is the first track off of Rush's 1984 album Grace Under Pressure. It was released as a single in 1984 with Between the Wheels as the B-side. This song has been played live since the Grace Under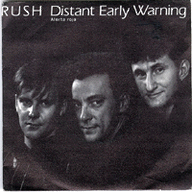 Pressure Tour in 1984 to most recently the Snakes and Arrows Tour from 2007 to 2008. It is one of their more popular songs being featured on numerous compliations and live albums.
Lyrics: An ill wind comes arising
Across the cities of the plain
There's no swimming in the heavy water-
No singing in the acid rain
Red alert
Red alert

It's so hard to stay together
Passing through revolving doors
We need someone to talk to
And someone to sweep the floors-
Incomplete
Incomplete

The world weighs on my shoulders
But what am I to do?
You sometimes drive me crazy-
But I worry about you

I know it makes no difference
To what you're going through
But I see the tip of the iceberg-
And I worry about you...
Cruising under your radar
Watching from satellites
Take a page from the red book-
Keep them in your sights
Red alert
Red alert

Left and rights of passage
Black and whites of youth
Who can face the knowledge
That the truth is not the truth?
Obsolete
Absolute

Absalom
Absalom
Length: 4:57
Personnel:
Geddy Lee - bass guitar (Steinberger XL-2), synthesizers (Minimoog, PPG Wave, Oberheim OB-Xa, Roland Jupiter 8), vocals
Alex Lifeson - guitars (Hentor Sportscasters), synthesizers
Neil Peart - drums (Simmons and Tama), percussion
Ad blocker interference detected!
Wikia is a free-to-use site that makes money from advertising. We have a modified experience for viewers using ad blockers

Wikia is not accessible if you've made further modifications. Remove the custom ad blocker rule(s) and the page will load as expected.