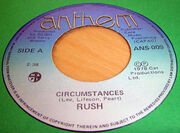 "
Circumstances
" is the second track on Rush's 1978 album
Hemispheres
. Lyrically, it is an autobiographical account, written by
Peart
, about the time he spent living in England, and his eventual disillusionment with his then-current occupations.
Musically, it's a hard-hitting rock song, complete with power-chords and riffs, similar to much of their early 70s albums. It also features a keyboard break, near the middle of the song, similar to the one in "The Trees," supplied by Geddy Lee's Oberheim 8-voice Polyphonic Synthesizer, backed by Taurus pedals, Neil Peart's orchestral bells and a simple, soft chord progression by Alex Lifeson, before breaking back into the song's hard rock feel. It was only played a handful of times in concert, on the Tour of the Hemispheres from late 1978 to early 1979, before the 2007 Snakes & Arrows Tour when it was played every night in the first set of the band's 3 hour live show.
Ad blocker interference detected!
Wikia is a free-to-use site that makes money from advertising. We have a modified experience for viewers using ad blockers

Wikia is not accessible if you've made further modifications. Remove the custom ad blocker rule(s) and the page will load as expected.