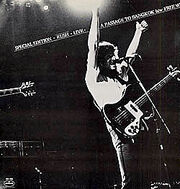 "
A Passage to Bangkok
" is the second song on Rush's album,
2112
. Released in 1976, the song follows the album's title song 2112. The song opens with a driving guitar riff. The song's lyrics have been interpreted as relating to marijuana, as the song references places such as Colombia, Mexico, Jamaica, Morocco, Thailand, Afghanistan, "golden acapulco nights" (a possible reference to Acapulco gold), Nepal, and Lebanon.
The song's length is approximately 3:35.
In earlier performances of the song (such as the version recorded on Exit...Stage Left), Geddy Lee would use a doubleneck Rickenbacker guitar, so that he could play rhythm guitar during Alex Lifeson's guitar solo. However, when the song was played on the 2007-2008 Snakes And Arrows Tour, Lee used his Rickenbacker 4001 bass to play the song.
The introduction and finale of the song both incorporate a variation of the Oriental Riff.
Tool frequently uses the main riff of "A Passage to Bangkok" as the intro for their own song "Cold and Ugly" (and "Jambi" at several shows on their 2006-2007 tour) when they play it live.
An orchestrated version of "A Passage to Bangkok" appears on Exit... Stage Right, a string quartet tribute album that features 12 Rush songs converted into classical pieces.
Song Information
Edit
Song: A Passage to Bangkok
Album: 2112
Label: Anthem
Length: 3:34
Geddy Lee: Vocals/Bass/Back-up Guitar
Alex Lifeson: Lead Guitar
Neil Peart: Drums/Percussion